Eduardo López Agudo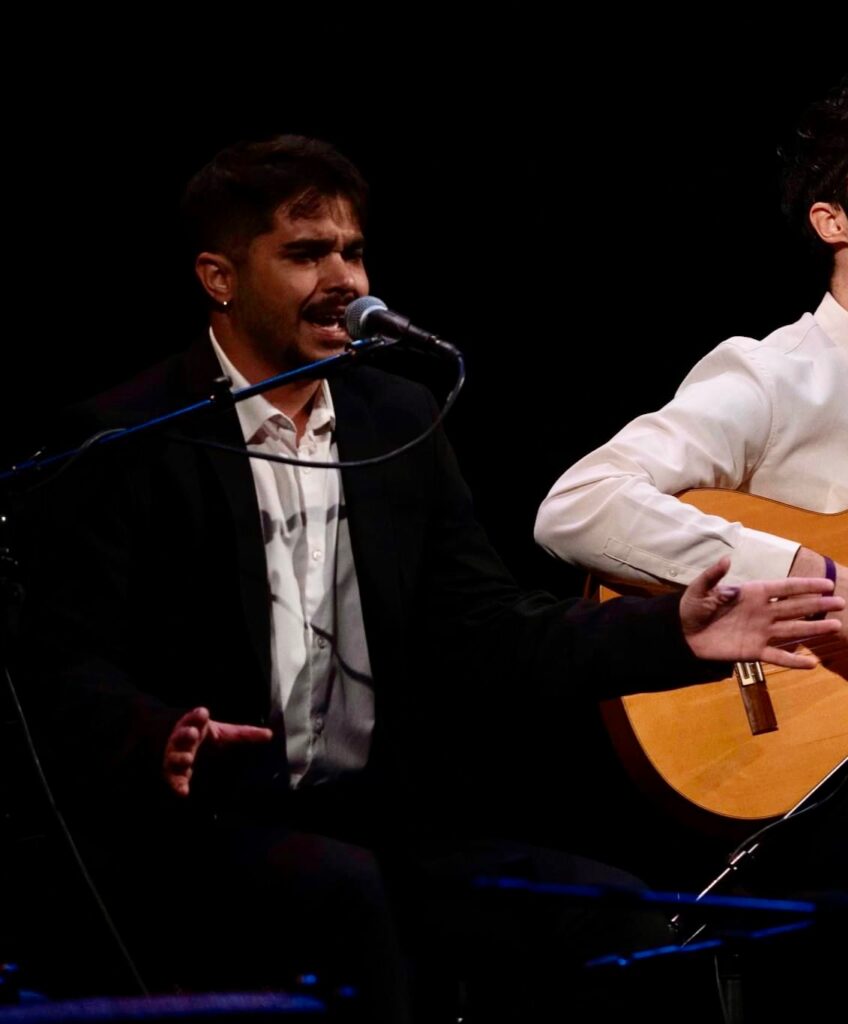 NOMBRE: Eduardo López Agudo
LUGAR DE NACIMIENTO: Málaga
Eduardo López Agudo was born in Malaga on March 24, 1990, he began singing at the age of 12. He regularly attended the Niño de Vélez flamenco club where he began his career as a singer. At the age of 18 he already performed for different clubs in Andalusia, touring all the provinces. At the same time, that same year, he began to work as a cantaor behind the hand of Sandra Cisneros and Rubén Portillo, touring the entire Andalusian geography and even performing at the II Lyon flamenco festival.
At the age of 21 he has already performed in the most prominent clubs in the community, País Vasco, Brussels, Lyon, Murcia, etc. In the summer of 2011 he is requested by the choreographer Carmen Mota, for whose company he will be singing for 8 years, totaling more than two thousand six hundred performances, in the Arona pyramid, Santa Cruz De Tenerife. In 2018 he began working for the Andalusian Regional Government's Ministry of Education as an accompanist teacher of flamenco singing at the "Kina Jiménez" professional dance conservatory in Almería, where he worked for two courses as a teacher.
In September 2021, he participated together with a cast of artists from the Cristina Heeren Foundation and directed by Luisa Palicio in the Flamenco "Viene del Sur" cycle, at the Central Theater in Seville. He has been part of the tribute cycle to Calixto Sánchez organized by the Federation of Peñas Flamencas de Sevilla, acting in Écija and Estepa. He is currently an accompanist teacher of flamenco singing at the professional dance conservatory of Almería.
In the summer of 2022, he performed with the Eduardo Guerrero company in the Jondo show, within the Lorca cycle and the Generalife gardens. He works regularly at Tablao Flamenco La Alegría (Málaga), Tablao Flamenco Cal y Canto (Málaga), Tablao Los Amaya (Málaga) where he has accompanied artists such as Sergio Aranda, Miguel Ángel Heredia, Inés Rubio, Adrian Santana, Carmen González, Isaac De Los Reyes, Ayasa Kojiyama, Camarón de Pitita, Antonio Santiago "Ñoño", Curro de María, Gaspar Rodríguez, Sandra Cisneros, Carmen Camacho, Cristobal García, Moisés Navarro, Fátima Navarro, etc…
Hightlighs: 2011/18 – Carmen Mota Dance Company. 2018/20 – Professional Dance Conservatory of Almería 2020/21 – Cristina Heeren Flamenco Art Foundation 2021/present – ​​Professional Dance Conservatory of Almería 2018/ present – ​​Tablao Flamenco La Alegría, Federation of Flamenco Clubs of Malaga, Federation of Flamenco Clubs of Seville"