Camarón de Pitita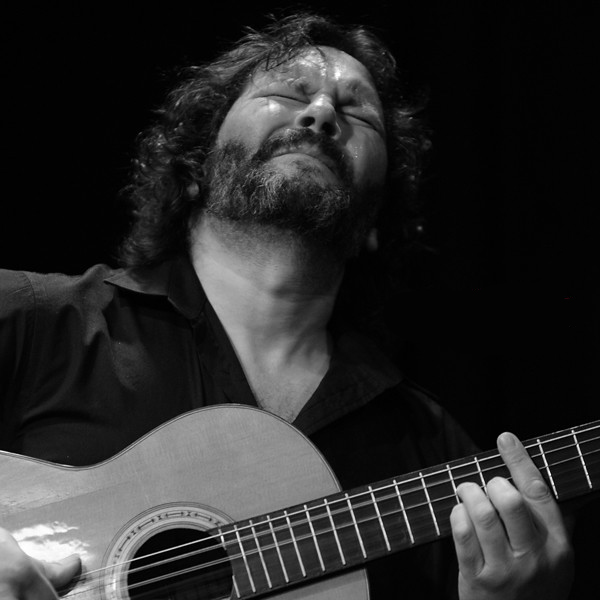 NAME: Andrés Carmona Silva
PLACE OF BIRTH: Madrid
FAMILY: Los Rubios. Es también sobrino de Camarón de la Isla.
Son of the consecrated cantaor Antonio Carmona 'El Rubio', the guitarist Camarón de Pitita (Andrés Carmona Silva), representative of the Madrid Escuela de Caño Roto, began his professional career at the age of 5, presenting the Un Mundo program for 2 years. of Spanish Television.
At the age of 9, he participated in the festival of La Línea de la Concepción together with Fosforito and Camarón de la Isla; and for years he offered concerts throughout Spain, collaborating with great artists such as José Mercé, José de la Tomasa, Manzanita, Pan Sequito and Juan Valderrama, among others…
At the age of 20, he collaborated in his first musical work with Cristina Heeren and Juan Andrés Maya, and as the leading figure in posters with Fosforito and La Susi. He has led the musical direction in works by Juan Andrés Maya, a flamenco dancer; he was the author of the choreography with which bailaora Rocío Molina received the first prize for Spanish Flamenco at the Albéniz Theater; he worked as lead guitarist in the play Troya with Rafael Amargo. He has maintained collaborations with Guadiana, José Antonio Ramos, Miguel Poveda, Marina Heredia, La Macanita, as well as participating in the Antonio Gades Company. He has collaborated on the album Flamencas en la sombra de Montse Cortés.
For five years he worked with Rafael Amargo and collaborated at the Teatro de Mérida with Ángela Molina. He has collaborated with Salomé Pavón (granddaughter of Manolo Caracol and the Pavones saga).
He has been the first guitarist in the work Troya in which Rafael Amargo participated and Ángela Molina collaborated. He has also collaborated with: Guadiana, José Antonio Ramos, Miguel Poveda, Marina Heredia, La Macanita.
He currently works in the Antonio Gades company and is preparing his first solo album. In addition to working in important national tablaos, among which the Casa Patas in Madrid or the Tablao Cordobes in Barcelona stand out.
FESTIVALS:
Festival of the Conception Line. AWARDS: Composer of the music with which Rocío Molina won first prize at the Teatro Albéniz de Flamenco Español.